Description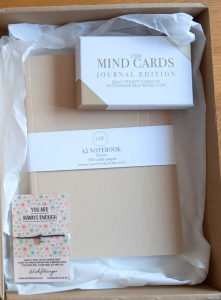 I've put together a notebook gift box at a very special price.
Do you know someone who would like a gift like this?
This box contains an A5 notebook, a pack of Mind Cards Journal Edition and a Wish Strings Bracelet.
You can read more about each of these products in the description below.
A5 Notebook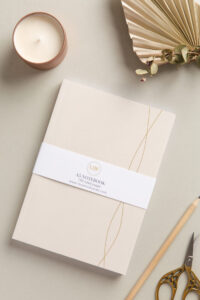 This is a soft back notebook with a beautiful premium gold embossed cover.
100gsm lined paper
192 pages
Made in the UK
A5 size (148mm x 210mm)
Softcover
Mind Cards Journal Edition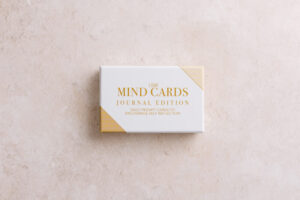 Self-development is about taking the time to pause and reflect on our behaviours, successes and failures and to consider how we can use these learnings moving forward.
One of the best ways to do this is to start a journal.
This set of cards will help you to be more creative in your journaling and will guide you each day to ensure you are answering the questions that will lead you on a path of self-discovery.
How to use: Each day, select a card at random and use the prompt on the card to guide your journal entry for the day. Pay attention to any thoughts, feelings or motivations that come up when reading the prompt.
Keep your journal somewhere easy to access, such as a bedside table or your desk, to ensure you write an entry each day.
What you get: This pack of cards contains 45 prompts to guide your journaling and focus your writing in the most positive, absorbing and beneficial way.
Wish Strings Bracelet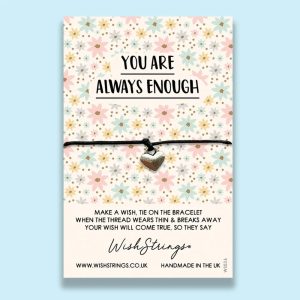 You Are Always Enough Wish Strings bracelet.
Make a Wish,
Each charm is hand strung and knotted on 30cm of the finest waxed cotton cord, making a beautiful simple bracelet to tie on as a token of love and friendship.
Each bracelet is presented on a gift card beautifully designed in our studio. The bottom of each card reads…
'Make a wish, tie on the bracelet, when the thread wears thing and breaks away, your wish will come true, so they say'
The total individual price for these products is £25.97 but I am putting them together in a box for just £16.99 and £3.50 p&p