Never Saw Me Coming by Vera Kurian was the mystery book I received from Second Chance Books on Etsy
I was feeling in a bit of a reading rut so I decided to bite the bullet and order a book without knowing what it would be (apart from the genre and a I chose Thriller.) The book arrived along with a couple of tea bags and a bar of chocolate. Perfect! Lets get on with my review.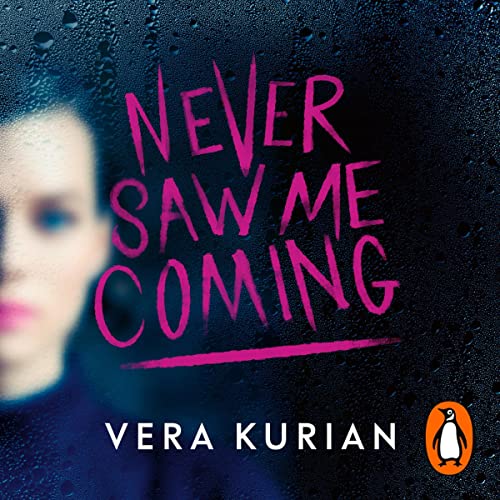 The Blurb
Here is what we know about Chloe Sevre.
She can be whoever you want her to be. A fun girl, a potential best friend, someone to tell secrets to over midnight snacks. She has an impressive IQ of 135, loves yogalates and frat parties, and is a classic girl next door.
Chloe Sevre is also a psychopath.
In between her first-year classes and taking part in a secret clinical study of young psychopaths run by her university's psychology department, Chloe Sevre is plotting to kill childhood friend Will Bachman.
Poor, lacrosse-playing, weed-smoking Will Bachman. He has no idea what's coming.
They say you should never trust a psychopath. But when you hear what Will Bachman did to Chloe Sevre, you might just change your mind.
My Review of Never Saw Me Coming
This was such a thrilling page turner. We are introduced to Chloe in the first person, she is the main character of the book. She's also a psychopath and has already planned her first murder victim, an older student, Will. We find out why she hates Will so much as the book the progresses but it keeps you waiting.
Their are seven students at the college on the Psychopath program and soon one of them is murdered. We have no idea who did it, but we are introduced to more psychopaths. Three of them, including Chloe, come to the conclusion that the murderer is going after the students on the scheme when the second psychopath is murdered.
The murders are gruesome, the psychopaths fascinating and the story fast past and full of twists. You really don't know who to trust in this story. Towards the climax each student seems to have their own ideas, but will any more of them be killed before they find the killer? And will Chloe kill Will?
The ending was chaotic, but you wouldn't really expect any less. After the conclusion we get a nice tidying up of loose ends which gives some satisfaction.
Would I have chosen this book for myself? Probably not, although the cover was quite interesting. Did I enjoy it? I loved it and devoured it pretty quickly as I just couldn't figure out the puzzle until it was almost concluded. A great thriller from a debut author.
If you fancy a surprise book do check out Jasmine's little Etsy business.
Or you can just buy Never Saw Me Coming on Amazon.
Link up all your bookish posts on Book Worms Monthly each month