I've finished my first book for November already, I have read many of Jess Kidd's books so I couldn't resist getting The Night Ship with my credit.
The Night Ship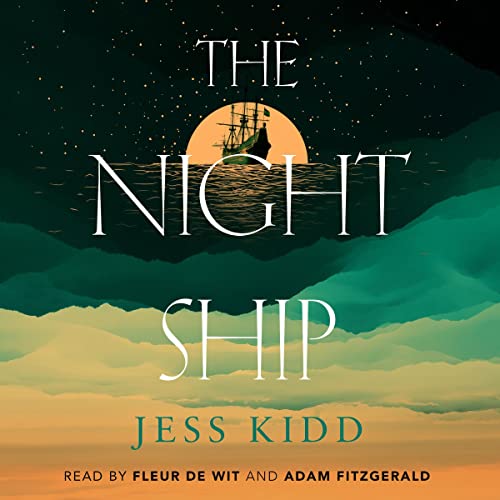 The Blurb
1628. Embarking on a journey in search of her father, a young girl called Mayken boards the Batavia, the most impressive sea vessel of the age. During the long voyage, this curious and resourceful child must find her place in the ship's busy world, and she soon uncovers shadowy secrets above and below deck. As tensions spiral, the fate of the ship and all on board becomes increasingly uncertain.

1989. Gil, a boy mourning the death of his mother, is placed in the care of his irritable and reclusive grandfather. Their home is a shack on a tiny fishing island off the Australian coast, notable only for its reefs and wrecked boats. This is no place for a child struggling with a dark past and Gil's actions soon get him noticed by the wrong people.

The Night Ship is an enthralling tale of brutality, providence and friendship, and of two children, hundreds of years apart, whose fates are inextricably bound together.
My Review of the Night Ship.
I've always been a fan of Jess Kidd, I love her prose, the way she makes you feel part of the story no matter how weird things get. And trust me, Jess Kidd likes to get weird. The Night Ship is a story in two parts. Two children hundreds of years apart and their adventures.
In 1989 a young boy, Gil, is put in the care of his fisherman grandfather after the death of his mother. His grandfather lives on an Australian Island and Gil finds it difficult to fit in. He is different and some people don't like different.
In 1628 a young girl, Mayken, and her nurse maid board the Batavia on a trip to find her father. The journey is long and Mayken proves that she's no ordinary girl as she embarks on a mission to find the monster in the decks.
Each chapter jumps from one character to the other and there is anticipation that their stories may entwine. We know that the Batavia became a wreck because there are archaeologists on Gil's Island finding remains. But it's a long way to find out what happened to Mayken and the rest of her friends.
I was intrigued to find out that the Batavia was an actual ship that was wrecked near a Western Australian Island. The accounts of what actually happened are really quite harrowing, it makes me kind of glad that Jess Kidd wrote her story from the point of an innocent child.
I listened to the book on Audible and loved the characterisation by the narrators, it really helped bring the story to life and to differentiate between the two stories.