So far I have really enjoyed reading Dervla Mc Tiernan and The Scholar was the next book in the Cormac Reilly detective series. Previously I have read the novella The Roommate and the First book in the series The Ruin, which I really enjoyed.
I listened to the book on Audible and my links are affiliate links, so if you click through and purchase anything I may earn a little money at no extra cost to you. Thank you for supporting my blog.
The Scholar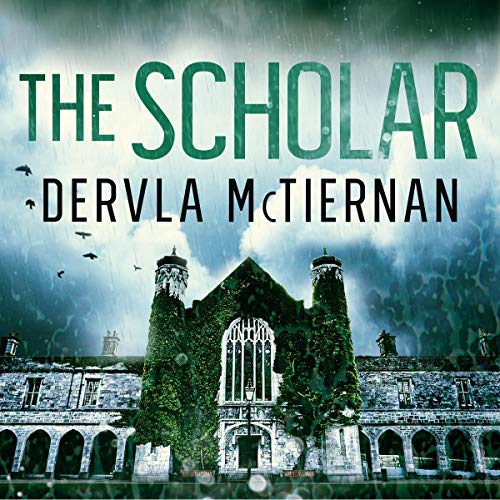 The Blurb
Brilliance can be deadly….
When Detective Cormac Reilly's girlfriend, Emma, stumbles across the victim of a hit-and-run early one morning, he is first on the scene of a murder that would otherwise never have been assigned to him.
The dead girl is carrying an ID, that of Carline Darcy, heir apparent to Darcy Therapeutics, Ireland's most successful pharmaceutical company. Darcy Therapeutics has a finger in every pie, from sponsoring university research facilities to funding political parties to philanthropy – it has funded Emma's own groundbreaking research. The investigation into Carline's death promises to be high profile and high pressure.
As Cormac investigates, evidence mounts that the death is linked to a Darcy laboratory and, increasingly, to Emma herself. Cormac is sure she couldn't be involved, but how well does he really know her? After all, this isn't the first time Emma's been accused of murder…. 
My Review of The Scholar
This was another great book from Dervla Mc Tiernan. I didn't really enjoy it as much as The Ruin because I wasn't compelled to keep reading. It didn't grab me so much. It was good to get to know a bit more about Cormac Reilly and where his loyalties lie.
The Scholar was interesting with plenty of twists to keep you guessing, although it was easy to make assumptions. (I will admit, my first assumption was wrong!) But the story didn't quite have to the build up to a terrifying ending, it just had a couple of nasty murders and then the solving of it, with less tension than in The Ruin. I would be happy to read more of the series. The next book is The Good Turn but she is yet to release the 4th in the series.
The story revolves around Cormac's girlfriend Emma and the college where she works in a lab. First a young girls is run over deliberately and murdered and Emma is first on the scene. It seems that the young girl has connections to the grand daughter of the owner of the labs but she denies knowing her. Just as Cormac is getting close to the truth there is another gruesome murder. As his girlfriend, Emma is being framed for both murders, Cormac races to put all the puzzles pieces together and find out who the real murderer is.
You can join Audible for free for 30 days and then it's £7.99 per month and you get one credit for any book of your choice. (The books can be quite expensive) You do however get access to all the podcasts and some free books. Extra credits can be purchased so you can download more audiobooks at a cheaper price. There is also an option where you can get the audio book for your kinds for a really cheap price (around £2.99)
I enjoy Audible because it means I can listen while I do other stuff like my crochet, or folding the washing. (It's great for when I'm in hospital having my treatment too!)
Dervla Mc Teirnan is also available on Amazon and other good book shops.
Or Buy The Scholar from my independent book shop