I have Kindle Unlimited which means I can borrow kindle books all the time and also choose from a smaller selection of audio books. The last one I chose was Waiting to Begin by Amanda Prowse.
Waiting To Begin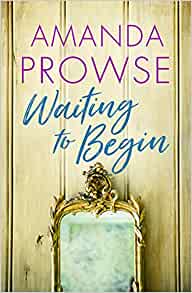 The Blurb
From the bestselling author of The Girl in the Corner comes a story that asks: what would you risk for a shot at happiness?
1984. Bessie is a confident sixteen-year-old girl with the world at her feet, dreaming of what life will bring and what she'll bring to this life. Then everything comes crashing down. Her bright and trusting smile is lost, banished by shame—and a secret she'll carry with her for the rest of her life.
2021. The last thirty-seven years have not been easy for Bess. At fifty-three she is visibly weary, and her marriage to Mario is in tatters. Watching her son in newlywed bliss—the hope, the trust, the joy—Bess knows it is time to face her own demons, and try to save her relationship. But she'll have to throw off the burden of shame if she is to honour that sixteen-year-old girl whose dreams lie frozen in time.
Can Bess face her past, finally come clean to Mario, and claim the love she has longed to fully experience all these years?
My Review
I was drawn to this book because the main character is almost the same age as me. The book switches between 1984, the year that Bess left school and 2021 where Bess is fifty three and her children have grown and she's wondering what life is all about.
It's sad that Bess had to go through so much as a teen and how it has affected the rest of her life. She feels unfulfilled and torn apart by keeping her secrets for so long. Just as she is about to come clean her life begins to fall apart. Is it too late to be honest and make it all good again?
I did enjoy the story although it wasn't anything special. There were lots of things that annoyed me about the book. There was not enough research into a life of a teenager in the 80s. The clothing was not quite right and neither was the type of language. Plus, I don't think I have ever remembered having exam results posted on a board and the children subjected to being put in numerical order from best to worst. I think this is an American thing? I received a private envelope with my results as have all my children.
I loved Bess's parents, they were truly down to earth. Maybe a little too 'common' for a working class family, but they did make me laugh. It did make me wonder why Bess found it so hard to tell them her secret, I'm pretty sure they'd have been okay with it, as indeed they were when she finally told them.
Bess's relationship with her husband Mario was a little weird too. I can't believe that they had been together so long but she had been unable to tell him her secret. He seemed like a nice enough man, I just don't get why she couldn't trust him. Maybe telling him a good few years earlier would have made the outcome a little easier?
So, I started this book thinking I'd enjoy it because I'd be able to relate to the character, where in fact I could not relate to her at all. I guess we are all individuals.