Description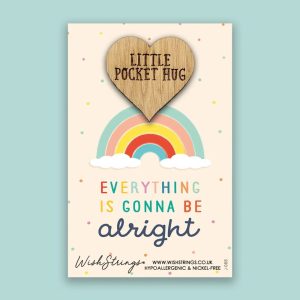 Everything is Gonna Be Alright Little Pocket Hug
Are you looking to send a wooden 'little pocket hug' heart to a loved one so they can keep it close to them everyday?
Our Pocket hugs are presented on a beautifully designed gift card with our 'Little Pocket Hug' engraved heart attached, every pocket hug is hand finished ready for you to gift to her or him. The wooden token can be removed from the card and placed in the recipients pocket/purse to carry around with them as a keepsake token.
Each gift card has a dedicated space for a personalised handwritten gift message, which our team will lovingly handwrite for you before sending to your chosen recipient.
There are so many different reasons to gift a 'Little Pocket Hug' to someone special, to give you some inspiration we have listed a few of our favourite reasons below!
Friendship Gifts – Friends are the most amazing people in our lives, so why not celebrate them everyday. Whether your friend is a childhood friend, work friend or a long distance friend we have the perfect friendship quote in our collection!
Good Luck Gifts – the perfect way to wish someone good luck for meany reasons… new job, going travelling, moving away. starting university, starting school, starting college, exams luck and may more!
Love You Gifts – the perfect little gift just to say I Love You… for a boyfriend, girlfriend, mum, dad, grandparent, friend, son, daughter! The recipient is sure to love this thoughtful little gift.
Birthday Gifts – The perfect birthday wish for everyone! fantastic for slipping into a greeting card for that extra special touch the recipient is sure to love.
Long Distance Gifts – long distance relationships can be tough, so let your loved one know just how much you are missing them. If you are searching for missing you gifts this would make a lovely keepsake.
Thinking of You Gifts – sometimes the special people in our lives need to know we are always there for them, our keepsake gifts are the perfect way show people just how much you care. A reminder that you have their back at a time when things are hard. For an adult this could be a gift to comfort at a time of anxiety or worry, or for a child it could be a reminder that you as Mum and Dad love your child so much!
You Got This Gifts – sometimes we all need a positive pick me up, our bright and colourful designs are sure to brighten even the darkest of days. We have lots of quotes and sentiments designed to boost the positivity of the recipient whatever the occasion.
Just because Gifts – there are so many reasons to gift someone a little keepsake gift everyday. Kindness gifts are heartfelt displays of love to the special people in your life. Whether it be your son, daughter, mum, dad, girlfriend, boyfriend, husband or wife this gift is suitable for men or women.
At Home A Lot is an independent retailer.