Do you like finding out more about celebrities, hearing about the real person? These audiobooks are Audibles latest offerings in the best celebrity Biographies and Memoirs.  
Best Biographies and Memoirs on Audible
Michelle Obama – A Life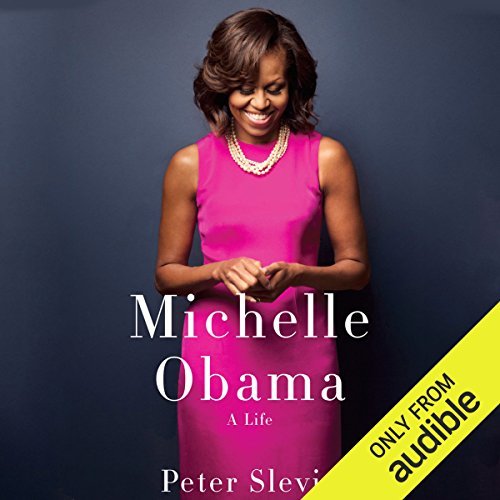 Audible – £28.09 or free with a 30 day trial of Audible
By: Peter Slevin
Narrated by: Robin Miles
Length: 15 hrs and 33 mins
Unabridged Audiobook
Release date: 18-08-15
Language: English
Publisher: Audible Studios
An inspiring story of a modern American icon, here is the first comprehensive account of the life and times of Michelle Obama. With disciplined reporting and a storyteller's eye for revealing detail, Peter Slevin follows Michelle to the White House from her working-class childhood on Chicago's largely segregated South Side. He illuminates her tribulations at Princeton University and Harvard Law School during the racially charged 1980s and the dilemmas she faced in Chicago while building a high-powered career, raising a family, and helping a young community organizer named Barack Obama become president of the United States.




From the lessons she learned in Chicago to the messages she shares as one of the most recognizable women in the world, the story of this first lady is the story of America. Michelle Obama: A Life is a fresh and compelling view of a woman of unique achievement and purpose.


©2015 Peter Slevin (P)2015 Audible, Inc
Mel B – Brutally Honest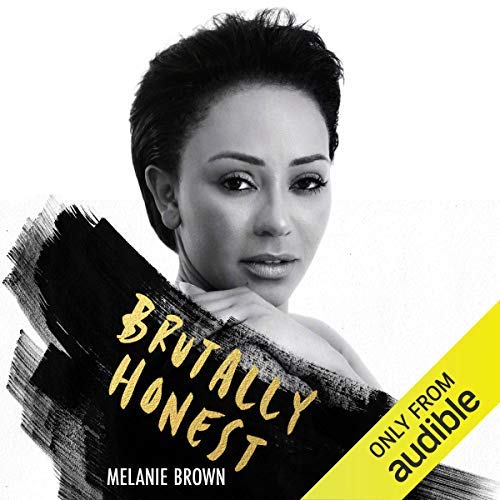 By: Melanie Brown
Narrated by: Melanie Brown, Phoenix Chi Gulzar Brown, Andrea Brown, Zaraah Abrahams, Bruce Lester Johnson
Length: 11 hrs and 9 mins
Unabridged Audiobook
Release date: 27-11-18
Language: English
Publisher: Audible Studios
Please note that this audiobook contains explicit language and content some listeners may find distressing.
The memoir from the real woman behind the leopard print, for real women everywhere.

As one-fifth of the iconic Spice Girls and judge on X Factor and America's Got Talent, Melanie Brown, aka Scary Spice, has been an international star since the age of 19. And yet there are sides of Mel that no one has ever seen or really known.

Brutally Honest is an exposé of the struggles and acute pain that lay behind the glamour and success. With deep personal insight, remarkable frankness and Melanie's trademark Yorkshire humour, this audiobook removes the mask of fame and reveals the mother, wife and daughter behind the Spice Girl everyone thinks they know.

The audiobook edition features narration from Melanie, her daughter, Phoenix, and her mother, Andrea.


©2018 Melanie Brown and Louise Gannon (P)2018 Audible, Ltd
Robert Webb – How Not to Be a Boy
Audible – £19.99 0r free with a 30 day trial of Audible
By: Robert Webb
Narrated by: Robert Webb
Length: 8 hrs and 52 mins
Unabridged Audiobook
Release date: 29-08-17
Language: English
Publisher: Audible Studios
Rules for Being a Man:
Don't cry
Love sport
Play rough
Drink beer
Don't talk about feelings
But Robert Webb has been wondering for some time now: are those rules actually any use? To anyone?

Looking back over his life, from schoolboy crushes (on girls and boys) to discovering the power of making people laugh (in the Cambridge Footlights with David Mitchell), and from losing his beloved mother to becoming a husband and father, Robert Webb considers the absurd expectations boys and men have thrust upon them at every stage of life. Hilarious and heartbreaking, How Not to Be a Boy explores the relationships that made Robert who he is as a man, the lessons we learn as sons and daughters, and the understanding that sometimes you aren't the Luke Skywalker of your life – you're actually Darth Vader.
Giles and Mary – A Tale of Two Nobodies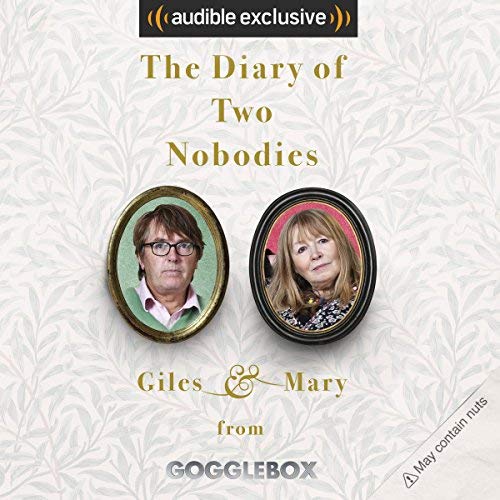 By: Mary Killen, Giles Wood
Narrated by: Mary Killen, Giles Wood
Length: 6 hrs and 27 mins
Unabridged Audiobook
Release date: 02-11-17
Language: English
Publisher: Audible Studios
What is life for Gogglebox's Giles and Mary outside the willow-patterned cocoon?

Giles is a countryman who relishes solitude. His wife, Mary, thrives in company and enjoys frequent escapes to London.

After 30 years in a marriage of opposites, Giles and Mary have adapted to a life of domestic misunderstandings within comical misadventures.

In The Diary of Two Nobodies, you will have the unique opportunity to discover, first hand, what occurs when a man who sees himself as a cross between Mr Bean and Basil Fawlty shares his life with a woman who identifies closely with the Queen.

Accompanying this diary is a candid and amusing Audible Sessions interview with Giles and Mary, in which they discuss how they made it onto Gogglebox, what the most annoying things about each other are, and why 'nutty' is their go-to term of endearment.
Audible – £13.99 or free with a 30 day trial of Audible.
This post contains affiliate links because I am an Audible affiliate. I'm also a huge fan of Audible and love receiving my new audio book every month for just £7.99 You can choose anything, I have a six volume set of Sherlock Holmes in my collection which would have cost nearly £70 if I were not a member.
Since I got sick my eyesight is troublesome. I've tried the opticians and have reading glasses, but although they help they don't stop the tiredness I get in my eyes.
I would have to give up reading but since I discovered Audible I've devoured more books than I have done in ages. I love it! And the best thing is, I can carry on listening to my books while crocheting or even doing to the housework. You don't have to put your book down to make a cup of tea, just take it with you in your ears.
If you join audible or buy a book from my list you'll be helping me to add to my listening collection with no extra cost to you, so thank you in advance.